The Hydro X Prix in Dumfries and Galloway marked a number of successes on course at the former opencast coal mine at Glenmuckloch. There were also multiple initiatives taking place off-track as Extreme E made its return to the UK. Here's a recap of everything which caught the eye away from the racing action in Scotland.
Legacy Programme
Extreme E's environmental Legacy Programme in Scotland was a multi-stage project centred around the restoration of the River Nith to ensure the preservation of Atlantic salmon.
On Thursday 11 May, just ahead of Extreme E's second double-header of the season, Extreme E drivers and personnel lent a hand to start the planting process and learn how the sensors can affect positive change.
Partnering with the Nith District Salmon Fishery Board, the aim is to reverse the impact of climate change through community engagement, education, and the application of science. This includes sensors provided by Vodafone Business, the series' Official Technology Partner, which will monitor temperatures, acidity levels and pollution levels in the water, as well as planting over a thousand native trees to protect the eroding banks of the river.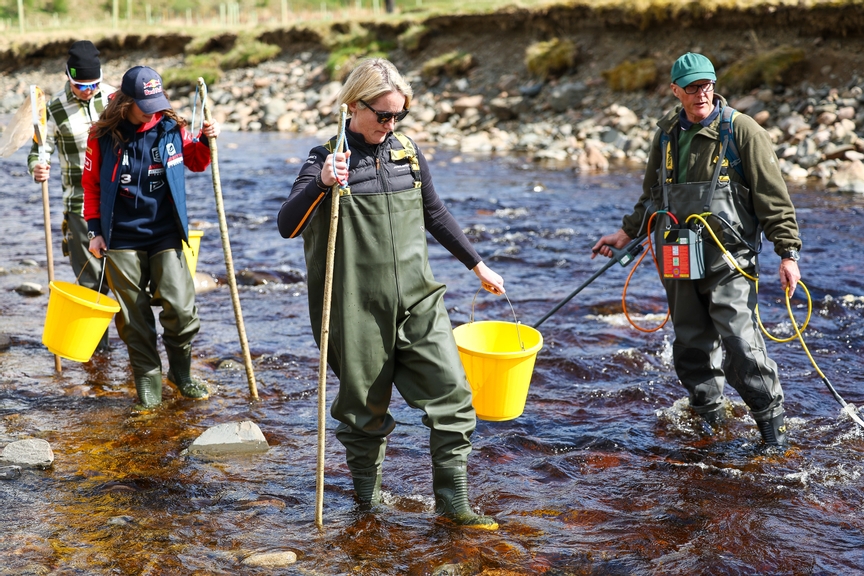 Tanner Foust, NEOM McLaren Extreme E Team, said: "I love doing the legacy projects. It means we're able to futureproof motorsport and show that it can be done in a responsible way.
"As a biology major in college, I find it particularly fascinating to learn about each individual region. I went to elementary school not far from here, about three hours further north, and I never would have known that there was an issue with salmon and with the warming of the rivers in Scotland. That goes to show how important the work we're doing to highlight these problems is."
FIA Girls on Track
Extreme E, Motorsport UK and FIA initiative Girls on Track joined forces on 10-11 May ahead of the Hydro X Prix race weekend, to introduce 80 lucky schoolgirls to life behind the scenes of the championship – as well as show them the many future career opportunities available to them in the world of motorsport.
The girls – all aged between 10 and 12 years old from local schools in the Dumfries and Galloway area, including Sanquhar Primary School, Kelloholm, Dairy Primary and Wallace Academy – took part in an eye-opening menu of activities including a STEM coding challenge courtesy of E-novation Consulting, as well as a lesson in vital resuscitation skills by professional motorsport Doctor Clare Morden.
Extreme E's female drivers and team personnel also spent time with the students to share their experiences of how they became involved in motorsport and what it's really like to work and race in this pioneering championship.
In addition, the schoolgirls were able to witness F1 Academy driver and FIA Girls on Track ambassador Chloe Grant's first-ever drive of an Extreme E ODYSSEY 21. 17-year-old Grant, who is more used to racing single-seaters on tarmac, put the colossal 500bhp electric race car for a spin around the Hydro X Prix course – fully immersing herself in the Extreme E experience at her home event, alongside fellow Scottish sporting star Sir Chris Hoy.
Upon getting behind the wheel of an ODYSSEY 21 for the first time, Grant said: "Driving the ODYSSEY 21 today was incredible. It was absolutely brilliant and a very different experience for me – off-roading – I'm used to tarmac, so it was amazing.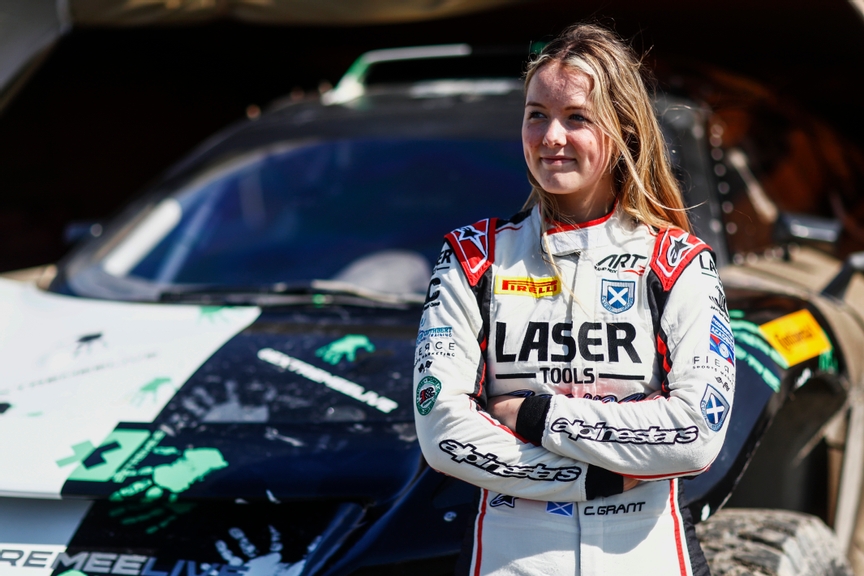 "I was nervous about the jump section, but after I did it I wanted to do it five more times! It means a lot to me to be an ambassador for FIA Girls on Track and I'm hoping that I can help more girls into the sport and show them what they can achieve."
To finish off an already unforgettable day, the awestruck girls were also given a front row seat to view Extreme E's Free Practice session before they headed back to school later in the afternoon.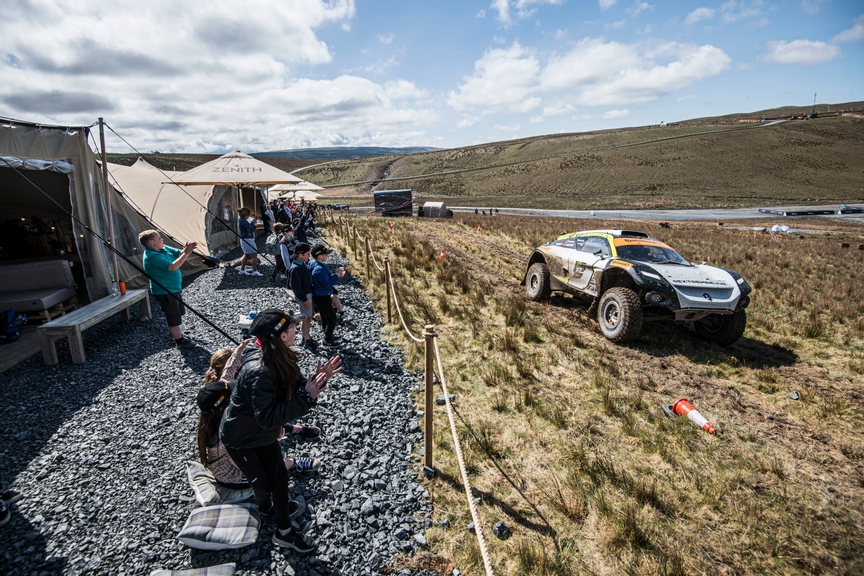 School visits
In addition to schoolgirls visiting the Hydro X Prix site itself, several of the drivers visited local schools on Wednesday to introduce themselves and talk to the students about Extreme E. Swedish siblings Kevin (Veloce Racing) and Timmy Hansen (Andretti Altawkilat Extreme E) alongside Extreme E Championship Driver Tamara Molinaro visited Wallace Hall Academy – a senior school situated in Thornhill.
NEOM McLaren Extreme E Team's Tanner Foust (who spent many of his early years growing up in Scotland) and Emma Gilmour dropped in at Wallace Hall Primary, ABT Cupra XE's Klara Anderrson and X44 Vida Carbon Racing's Fraser McConnell went to Kelloholm Primary, with Amanda Sorensen (No.99 GMC Hummer EV Chip Ganassi Racing) and Andreas Bakkerud (JBXE) visiting Sanquhar Academy.
Tipping Point
The Tipping Point series once again used its platform to deliver engaging talks on a number of climate issues, provoking discussion around environmental issues and sustainable alternatives.
The discussion ahead of Round 3 on Saturday was titled 'Climate Prediction for Rivers and the Impact of Global Warming', centring on how, as an Official Partner to the championship, Vodafone Business' technological innovations can support Extreme E to be a safer sport, including the implementation of hydrosensors in Scotland.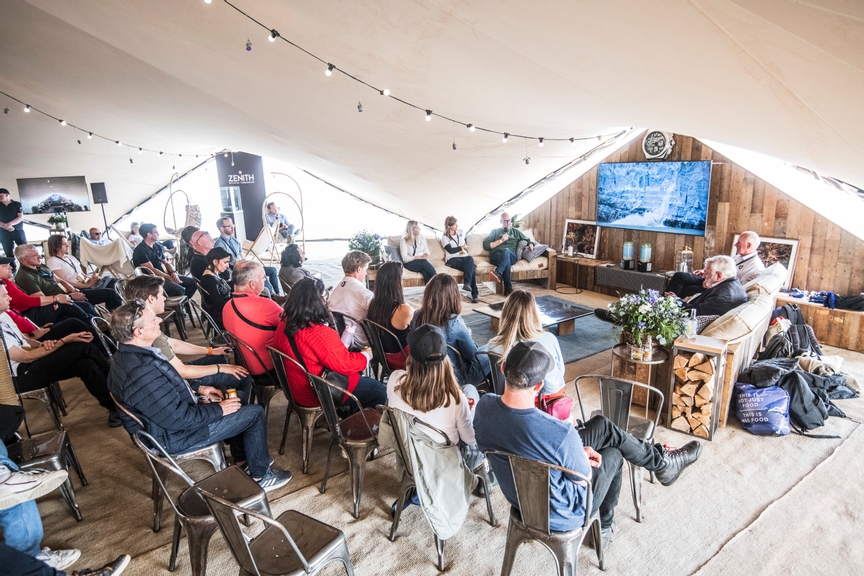 There were two Tipping Point talks held ahead of Round 4 on Sunday.
The first was named 'The Sustainability Trajectory: Requirements versus Progress', focussing on the importance of sustainability and what it meant to each of panellists – ranging from Official Partners to members of Extreme E's Scientific Committee.
The second centred on the subject of equality within Extreme E, reinforcing the importance of the Racing for All initiative as well as support from the EqualEngineers Pathways Programme.
Julia Wall-Clarke, Head of Communications and Impact at Extreme E, said: "It was great to use the Tipping Point platform to highlight excellent opportunities the Racing for All programme provides to underrepresented backgrounds looking to get a foothold in a career in motorsport engineering.
"Seeing so many Racing for All candidates now in the Extreme E paddock is huge for our series. It was a pleasure in particular to meet Daanish – No.99 GMC Hummer EV Chip Ganassi Racing's candidate and member of EqualEngineers' Pathways Programme – who spoke passionately about the amazing hands-on experience he was having with the team during their Scotland race week, and how it's going to benefit his studies on EV engineering.
"The ambition for Racing for All is to instil an inclusive mindset and ensure a wider recruitment pipeline. Having five candidates already involved in the series is just the beginning."