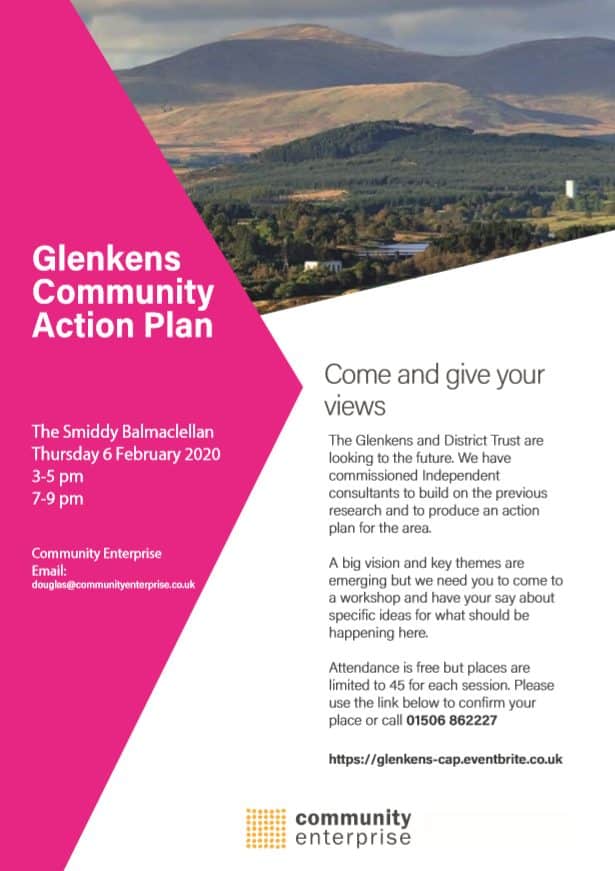 The Glenkens & District Trust has commissioned independent consultants Community Enterprise to develop and prepare a Community Action Plan for the Glenkens and District.
The objective of this work is to produce a short, concise document that sets out a clear vision for the area with priorities, either projects or service provision, that are supported by local people and a timeline for achieving them. The Community Action Plan will be aspirational but also fundable and deliverable.  It will be backed up by a detailed report giving the underlying data and evidence for the identified priorities. This report will be available for community groups across the area to use to support funding applications, either to the Blackcraig Wind Farm Community Fund, or to other funding bodies.
In addition, The Glenkens & District Trust will also use the output of this work to identify priorities for the Blackcraig Wind Farm Community Fund which will enable it to allocate money as effectively as possible in the long term interests of the community and to meet identified community needs.
Two Community Engagement events are scheduled for 6 February at The Smiddy in Balmaclellan, one from 3- 5pm and then repeated from 7- 9pm.
The themes to be discussed at the workshops are drawn from significant research done across the area over recent years and also build on a workshop held in December with representatives of local organisations.
The emerging themes so far are: –
Isolated groups need to work together more effectively
Developing community assets and spaces, and our wider environment
Economic regeneration, jobs, tourism and local wealth creation
Addressing climate change – sustainability, local energy and improving transport and housing
Fiona Smith, the Chairman of The Glenkens & District Trust said:  " This is an important project for all of us in the Glenkens and wider area and we would like to encourage as many people to attend or give views as possible."
Places at the event are limited and tickets can be be booked through the following link  https://glenkens-cap.eventbrite.co.uk). If you want further information or are unable to attend but want to feed through ideas please email Douglas Westwater at douglas@communityenterprise.co.uk .