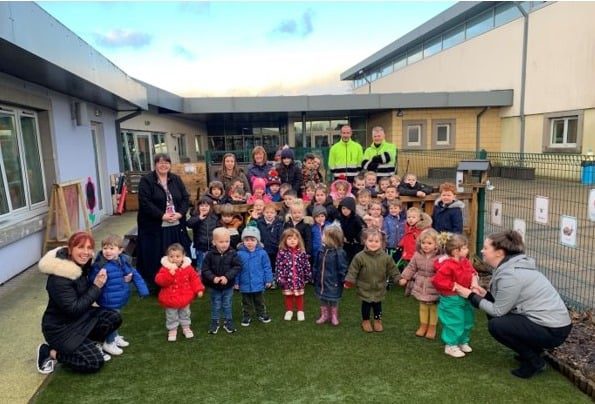 Lincluden Primary School Nursery has undergone a major transformation thanks to donations by J & J Currie and Dumfries Garden Maintenance.
The donations have facilitated a complete overhaul of the nurseries outside play area which includes a new all-weather surface permitting children to enjoy outdoors play throughout the year.
A Spokesperson from Lincluden Primary School Nursery told DGWGO " Due to COVID regulations and government guidance we spend a large part of our day within the nursery garden. Children were unable to utilise a large part of the nursery garden due to the grassed area being waterlogged and dangerous. This was limiting the children to very small areas of play and learning.

Initially we were kindly donated offcuts of artificial grass from Learmont & Simm which allowed us to split the garden into 3 areas and give each room their own garden space. With the weather and continuous usage unfortunately we needed a more long term solution and with costings of artificial grass being so high we as a nursery were unable to fund this. George and Neil from Dumfries Garden Maintenance assessed our area and kindly offered to help. They contacted J & J Currie whom offered to donate artificial grass. George and Neil spent the day preparing the area and laying the artificial grass – much to the children's delight to see the process.

"Thanks to their kindness, our nursery garden has been completely upgraded and, most significantly, children now have a very special place to play outside which will last for many years to come. Our nursery is very popular, and numbers are increasing all the time, so we want to ensure that our facilities are continually upgraded. We describe it as 'the window of the school' as it's where many children start their education and the excellent care they receive has a huge influence on them staying with us until the age of eleven."
Children at the nursery thanked George and Neil from Dumfries Garden Maintenance with Christmas songs in the garden. (COVID guidance permitted).