Award-winning storytellers Mostly Ghostly Tours and local charity Food Train Dumfries and Galloway are thrilled to announce that their recent Spooky Sleepover raised a grand total of £1178.31! The event, which was held at the Theatre Royal in Dumfries, Scotland's oldest and reputedly spookiest theatre, was a great success and both parties are delighted with the outcome!
Founder member Kathleen Cronie said:
"We're absolutely thrilled with the fantastic amount raised from our Haunted Theatre Tour and Spooky Sleepover! It was a joy working with our friends at Food Train, who work tirelessly to improve the lives of older people in the community. We'd like to extend warmest, heartfelt thanks to everyone who came out to support the event, and to our friends at the Theatre Royal for hosting. It was a night we'll never forget and already, we're looking ahead to future fundraising collaborations with the Food Train team. They are such a dedicated local charity and make a real and positive difference to the lives of many people."
Food Train is based in Dumfries and supports older people to live independently at home. They help older people across the region by providing four services: including grocery deliveries, a household help service, befriending and MealMakers. Anyone interested in finding out more about Food Train can ring 01387 270800 or see their website on www.thefoodtrain.co.uk
Stephanie Wield, Food Train Service Administrator and Co-ordinator said:
"I would like to thank Mostly Ghostly for hosting a fantastic event which was thoroughly enjoyed by all & for their ongoing support of The Food Train. I would also like to say a huge thanks to everyone who was brave enough to take part on the night and helped to raise a brilliant amount for the charity".
The event, which took place in February, began with Mostly Ghostly's popular Haunted Theatre Tour, then a brave band of guests arrived ready to spend a whole night in the atmospheric Theatre Royal. They were treated to an exciting performance from rising star Ryan Stokes, who presented his own unique brand of magic. After an engaging and mesmerising performance, guests embarked on a tour of the Theatre, spending time in some of its most 'active' areas.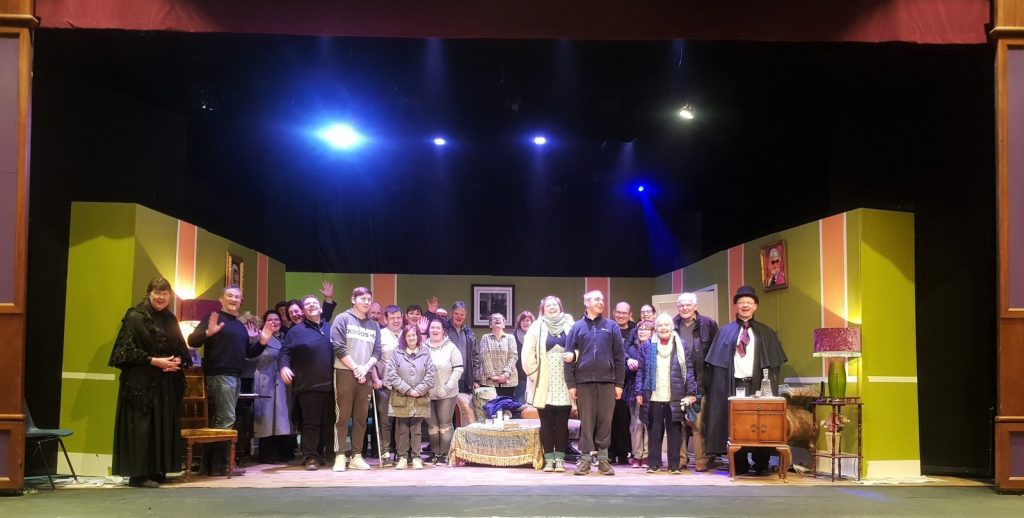 Telling us more about the big night, Team member John Hill said:
"There was a great buzz about the place as we took guests on a guided tour of the Theatre and with so much history and ghostly activity, there was no shortage of things to talk about! The eerie balcony attracted much interest: guests enjoyed taking turns in the 'haunted seat' and a number of spooky sounds and strange feelings were reported."

Around 2:30am the intrepid group gathered for a ghostly-themed quiz devised by guest and Food Train Volunteer, Jane Anderson – Mostly Ghostly's Kathleen and John were proud (and slightly jammy!) winners!

So did anyone manage to sleep? Kathleen said:

'Too excited to sleep, we spent the remainder of the night exploring. The ghosts were conspicuous by their silence, however the Theatre Royal after hours certainly has a unique atmosphere. The night ended with an impromptu performance by guests Claire Lund and Tracy Kelly – the lure of the stage proved too much! Bravo girls!'
After thrills, chills, laughter and chatter, goodbyes were said at 7am. Spirits were high in spite of the hour, and the Mostly Ghostly and Food Train teams felt over the moon to have shared such a brilliant experience with all involved!
Comments
comments