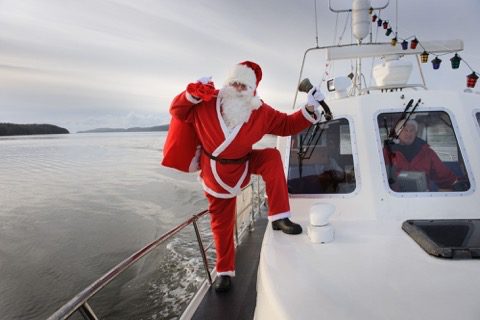 Winter Wonderland on Saturday 12th December 2015
Press article
Jingle Bells; Jingle Bells; jingle all the way —— children guess who's coming to Kirkcudbright on Saturday 12th December!
Father Christmas is coming into Kirkcudbright Harbour at 11am where pipers will lead him to the Parish Hall, and you can all meet him and get a present! Mrs Christmas will be there helping him too, there may even be an elf or two.
For those little ones who don't know the magic story, this is what happens: Father Christmas flies in with his sleigh drawn by Rudolph and the other reindeers, to Little Ross Island where the M V Gallavidian and her skipper Gary McKie bring him to the harbour side, from there you can follow him with Mummy and Daddy. He is so pleased to be coming to see you all again.
The Parish Hall opens from 10am – 3pm and has lots of stalls selling cakes, gifts, crafts and much more. Mince pies and teas for weary travellers and everyone is welcome. Assistance is given by Church, Rotary and Inner Wheel members.