The Dumfries & Galloway Arts Festival are delighted to be bringing STORM to Dumfries as part of their year-round Arts Live programme on Saturday 16th October.
Rising at the Whitesands at 11.30am, STORM a 10 metre tall figure by Vision Mechanics, will tour the town, engaging with many community groups along the way, celebrating our coasts and waters and the need to protect them, as part of the Dumfries & Galloway Art Festival's response to COP26.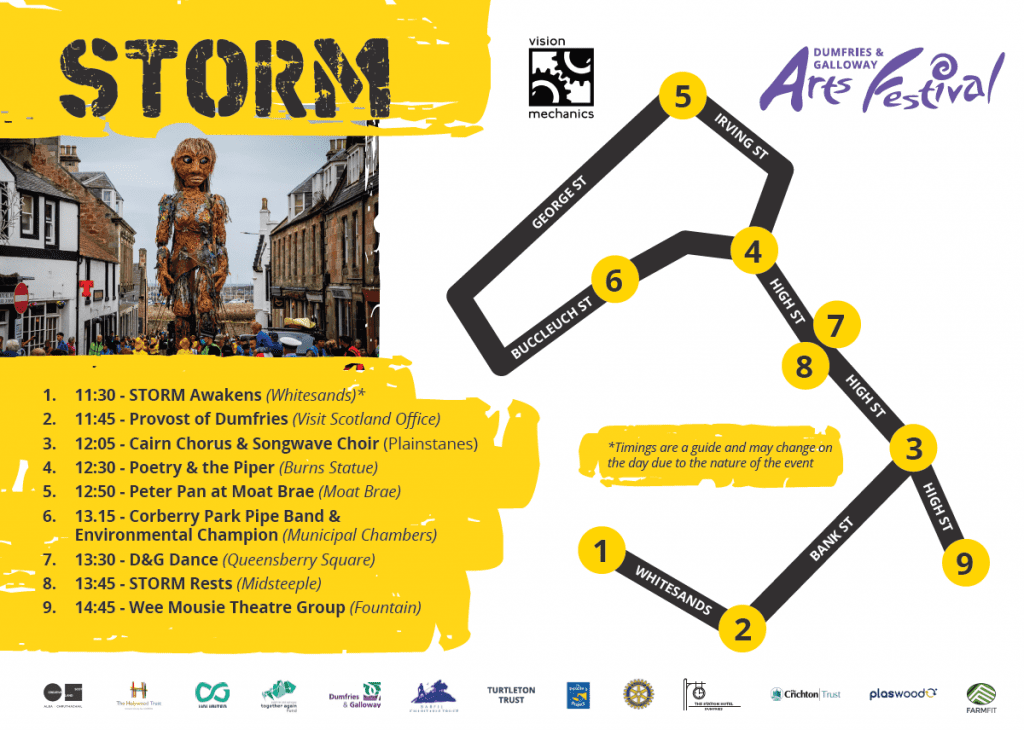 Created for the opening of Celtic Connections 2020 by Edinburgh-based visual theatre company, Vision Mechanics, STORM will once again rise from the oceans to walk on land. STORM is a legend come to life, emerging from the sea, and coming to Scotland to tell us that the oceans are in crisis.
The Dumfries & Galloway Arts Festival were responsible for bringing STORM's brother, The Big Man Walking to Dumfries 11 years ago and they have organised this event as part of their year-round Arts Live programme that will showcase the very best of what Dumfries & Galloway has to offer on Saturday 16th October.
STORM, a free, outdoor theatre spectacle is funded by EventScotland through Scotland's Events Recovery Fund and has been developed in celebration of Scotland's Year of Coasts and Waters 20/21.
In Dumfries & Galloway, the team are delighted to be supported by Creative Scotland, Dumfries & Galloway Unlimited's Together Again Fund, ANCBC, Barfill Trust and Turtleton Trust and also generously supported by the People's Project, The Station Hotel, The Devorgilla Rotary Dumfries, Plaswood, FarmFit and The Crichton Trust.
Aided by ten puppeteers, STORM – Scotland's largest puppet – will travel Scotland's coastlines and urge care and protection for our oceans and environment as she takes in the natural beauty found all across her home nation.
Made from entirely recycled and natural resources STORM is ten metres tall and weighs around 500 kilos. Her eyes are the colour of oyster shells, her hair thick strands of kelp, her voice the chorus of the waves. She is accompanied wherever she travels by a beautiful soundscape created by the pioneering Scottish folk singer Mairi Campbell.
The Dumfries & Galloway Arts Festival recognises the serious threat the climate emergency has to our future, wellbeing, and culture. As an organisation, they are committed to minimising their environmental impact, working directly and in partnership with participating venues and their network. As COP26 is fast approaching, they are reviewing how they respond to climate change and encourage activism and sustainable changes to how we deliver our programmes.
STORM is their response to COP26, inviting communities to voice their concerns by performing on the streets of Dumfries, sharing their passionate activism. This exciting and powerful programme will see intergenerational community groups respond to climate change. The council will share their new 7 stage strategy to environmental sustainability by 2030 and STORM will be the start of an ongoing dialogue for carbon reduction methods across the region.
STORM's journey will be free to witness along with the exciting community activities planned throughout her journey to show her how dedicated Dumfries is to protecting her coasts and waters.
Three of the performances on the day are supported by the Together Again Fund and include Wee Mousie Theatre Group, D&G Dance and Songwave and Cairn Chorus Choirs. Alongside this, the team are working with Moat Brae, Corberry Park Pipers and supporting two young performers from their Stage iT programme Chelsie Nash and Calum Mackenzie to perform as continuation of their work from their 2021 ten day Festival. As well as meeting the Provost of Dumfries and the Environmental Champion along the way.
The route map will be released on their Facebook page @dgartsfest and the walk will be broadcast live on social media.
They are bringing STORM to Dumfries as part of their year-round Arts Live programme of events.
Arts Live is a year-round touring performance programme for Dumfries & Galloway. Through this project, they have created a network of venues, artists, and promoters who they work with to stage events and organise touring performing arts to visit Dumfries & Galloway. As part of Arts Live, they offer training, support, and aim to create a strong future infrastructure for performing arts in the region. To learn more about Arts Live or joining their FREE network contact: info@dgartsfestival.org.uk.
Lou Davies, General Manager of the Dumfries & Galloway Arts Festival said: "We are delighted to be able to bring STORM to Dumfries this October. After the success of Big Man Walking 11 years ago, an event that is still talked about to this day, we hope that it will bring audiences back into the town after a long, hard period of isolation to celebrate together as a community. We have lots of exciting events planned throughout her journey including performances from three artists who we've commissioned with the kind support of the DGU Together Again fund."
STORM will rise at the Whitesands in Dumfries at 11.30am on Saturday 16th October and will journey through Dumfries that day visiting many community groups along the way.