The DGWGO Entertainment News 'Who Review' does Thornhill Music Festival


With the resurgence of music festivals the length and breadth of Britain it's nice to come across one that is as much local business orientated as it is audience enjoyment.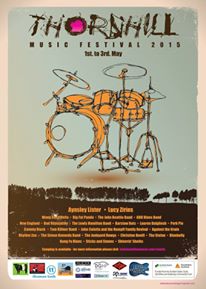 The whole weekend is laid out in five separate venues The Farmers Arms, The Thornhill Inn, The Buccleuch and Queensberry Arms Hotel, Thornhill Bowling Club and Thomas Tosh.
Now in its third year the festival is going from strength to strength with great attendance from locals and also the surrounding areas. The programme of events is spread out evenly so that each of the venues manages to get a lion share of the participants, making money over the bar is highly important to the venues as they are the ones paying in most part if not all for the musicians, festival goers only have to pay admission to one venue, the bowling club, as it is not commercially viable as the rest and taking a hit on lack of attendance would be far too unfair on them.
Every venue I visited was wall to wall with people soaking up the great atmosphere and fantastic music, everyone was made to feel welcome with many strangers becoming friends for an hour or a day or the weekend purely through the love of music. Congratulations to the committee and business owners for taking the risk of free entry to the majority of the acts and please continue this festival as it is quickly becoming vital over the May weekend in D&G.
The ' Who Review' Written exclusively for DGWGO by Ali Donowho
DGWGO is very proud to be an Official media partner with Thornhill Music festival since the very start ! Roll on 2016.
To Keep up to date with next years Thornhill music festival  their facebook is https://www.facebook.com/pages/Thornhill-Music-Festival/487819717906138
Pictures courtesy of Mark from  Skidpix