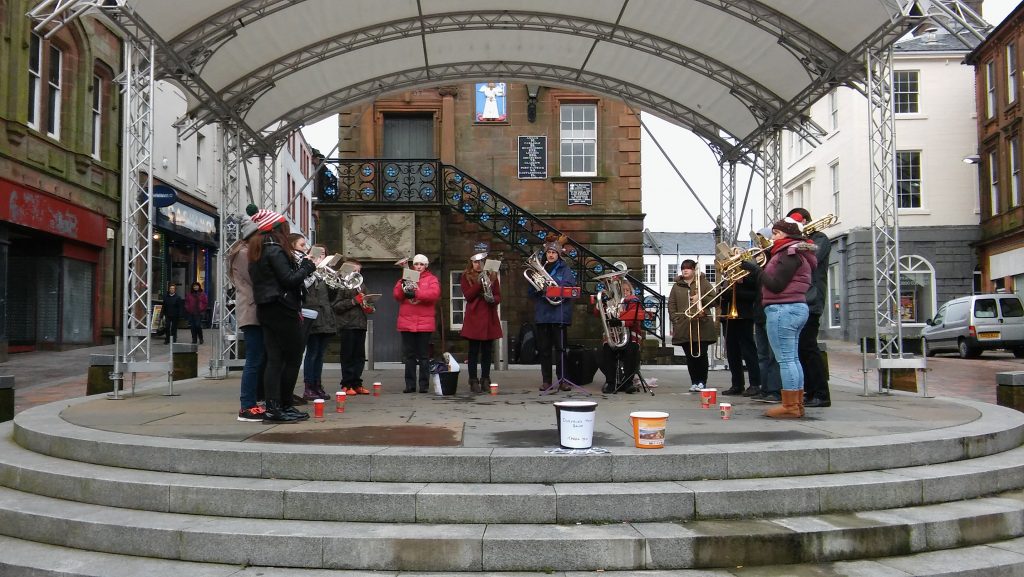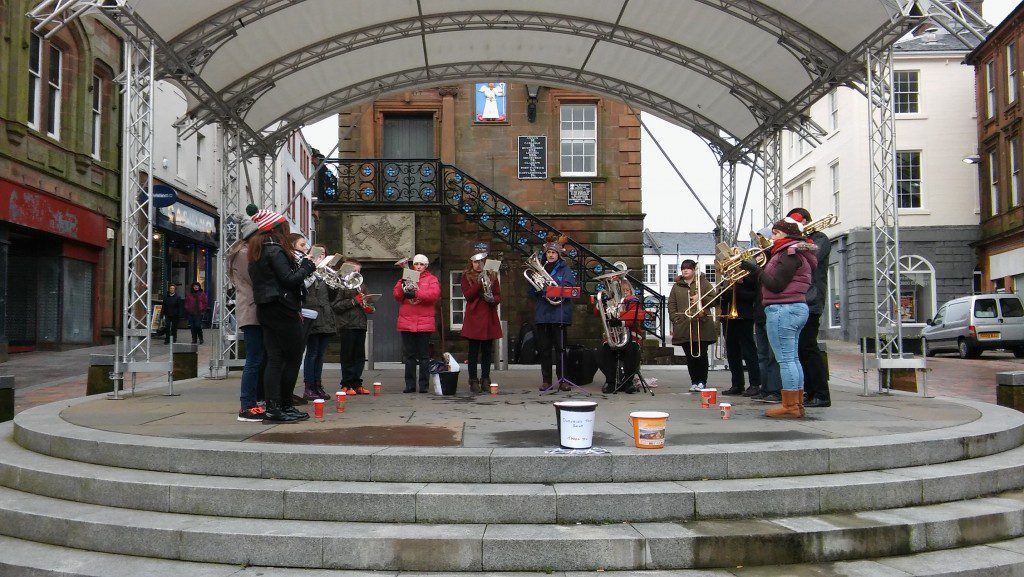 For those of you who have not yet experience the grand December spectacular which is Dumfries Living Advent 2015, we'll explain: It's a collection of short performances which have spanned the 24 days leading up to Christmas Day… A literal living advent calendar brought to the Dumfries community, by the community. We've seen music, dance, drama, storytelling, an elf workshop with contributions by artists such as; Mostly Ghostly Investigations, Viridian Skies, Stagecraft Musical Theatre, Paragon Music, Stref, Afracadabra, Dumfries Town Band, Aaron Shepherd, DG Cheer, and St. Ninians Singing Group.
This merry undertaking is soon to come to an end as we rapidly approach Christmas, so we at DGWGO thought it a good time to talk to the project co-ordinator – the grand spirit and power-force behind this truly epic project – Donna Winter! We got a chance to sit down and ask her a few questions about the Dumfries Living Advent and here's what she had to say!
Donna, what was it which inspired you to take on such a grand project?
A lot of things came together to form the idea. I was initially inspired by a project in Gothenburg (Sweden). I seemed a wonderful way to celebrate community; this is something which has always been part of the Christmas tradition. After that it was hard not to imagine little performances playing out daily in the streets of our town. A twenty four day Christmas celebration! Highlighting all the creative energy that our town is rich in.
How many groups do you have involved exactly? Could you give us some details on the acts you've had, and what's lined up leading to Christmas?
There are approximately 26 artistic groups involved, some are individual acts while others collaborate together as groups. One of the aims of Living Advent has been to show the broad spectrum of creative activity that go on in this area. We've had exhibitions, live illustrating, a drumming group, dance, singing, Christmas children's activities, Santa's grotto and so much more. I can't name them all off the top of my head, and I wouldn't like to name a few and leave out the others, so check our Face book page Dumfries Living Advent 2015 and you'll get the jist of what's been going on!
What was the best moment so far in living Advent?
I've enjoyed it all! But, I really liked the whole Elf Workshop thing, and getting to see Stref (Stevie White) draw live for us was brilliant… He even let me have some of his drawings! I can honestly say that the whole thing's been a wonderful experience. I'm getting a bit tired of untangling fairy-lights though; somehow I hadn't anticipated how much I'd be doing that!
What do you want for Christmas?
I want a full days sleep! I would love a lie-in without having to think about what act needs to organised… In fact, Christmas Day is my first day off in about three months – so I'm extra looking forward to Christmas. My present to myself is a day off, and I can't wait! I will miss the buzz and the joy of Living Advent though. I said, when I was half way through that I was laughing and stressing in equal measure! So I'm getting ready for a much needed Christmas break!
How is it working with Santa Claus?
Santa was great! He wrote letters to the children, he danced around like crazy to the Christmas music. He was always there to 'Ho Ho Ho' and cheer us up. It's amazing how a Santa Claus can liven up an event so I'm glad he could attend. He's a very special chap, everything I thought he would be and I feel very honoured to have worked with him. It's not everybody that's got Santa on speed dial!
Is it true that elves are good workers?
No. Elves are lazy! No, I'm only kidding they're great. Elves are very good at reminding me what day we're on, and reminding Santa to stop eating biscuits! I may hire the elves next spring for general garden work because they are hard workers… (Don't tell Santa)
What are your plans for Christmas day?
Well as I said, I'd like to sleep the whole day! However, I have to make the Christmas dinner and resume normal Christmas protocol… Really my plan is to enjoy a normal Christmas after all this festive mayhem of the Living Advent. My family have been very important to the success of Living Advent they have been there everyday for me and have helped so much I don't think it could have happened without them. My son Rowan has been a whizz at setting up the sound system and doing a lot of carrying. My daughter, Jasmine is the organiser and has followed me tidying up with the grand job of remembering where everything should be, and of course my husband who was a sounding board for ideas and stresses! They're quite a team, so I guess they deserve the best darned Christmas dinner ever…
A Christmas message for Dumfries?
Hmmm… Buy battery powered fairy-lights! They're better and the batteries last a really long time. And, of course… Merry Christmas for the Dumfries Living Advent team!
You can check out the latest advent updates and keep updated with their Christmas plans at facebook.com/dumfrieslivingadvent.
Written for DGWGO by Michael Sullivan