Jamesie Burns and the Bicycle Thieves is a new children's book adventure written by Ian Barr, Illustrated by Pete Bell and Published by Hoggett Creative
Jamesie Burns and the Bicycle Thieves – RRP Price £5.99
Launching Saturday 25th January 2020 at Waterstones Dumfries – 2pm – 4pm
Available direct from Hoggett Creative online at Jamesieburns.co.uk
Local children's character Jamesie Burns is poised to reappear, sixteen years after his last escapades, in a new heart-stopping adventure. Jamesie Burns and the Bicycle Thieves is a feature length story, to be published by Hoggett Creative. Bicycle Thieves tells the breath-taking tale of how Jamesie is caught up in the devilish plan of unscrupulous industrialists, to steal the world's only working bicycle, invented by local hero Kirkpatrick Macmillan.
When Jamesie seeks to protect his friend Pate, he is thrown into the most dangerous situation of his young life. Will Jamesie and Pate survive? Will the only bicycle in the world be saved for Scotland?
Bicycle Thieves is the first in a new series of Jamesie Burns publications and is a creative venture between Simon Woolley of Hogget Creative, author Ian Barr and illustrator Pete Bell. The series will comprise four new stories, written in English and Scots, which will include many snippets of songs and verse from Robert Burns, as part of the story-telling. Jamesie Burns and the Bicycle Thieves is to be launched on Burns Night 2020. There will be further issues each Burns Night until 2023, with a new Jamesie Burns story coming out every year.
The new book also features a detailed biography of Kirkpatrick Macmillan, who invented an early form of the bicycle in the early 1840s, a ground-breaking version of the hobby-horse that took forward cycling significantly. Macmillan hailed from Keir Mill near Penpont, and is one of Dumfriesshire's greatest sons.
Ian Barr, the author of the Jamesie Burns series said, "When Jamesie disappeared from view, I still had many different ideas and storylines for the character. I actually wrote Bicycle Thieves a number of years ago, and personally feel it is the best edge of the seat Jamesie Burns adventure yet. The series was written to give Dumfriesshire parents and children their own fictional character to relate to, and that is still the case. Readers will recognise many local landmarks and characters in Bicycle Thieves, and wonder, as I do, if Jamesie is actually related to Robert Burns – they certainly share many similar characteristics! The book is aimed at parents to pick up and enjoy, and to then share the Jamesie Burns story with their children."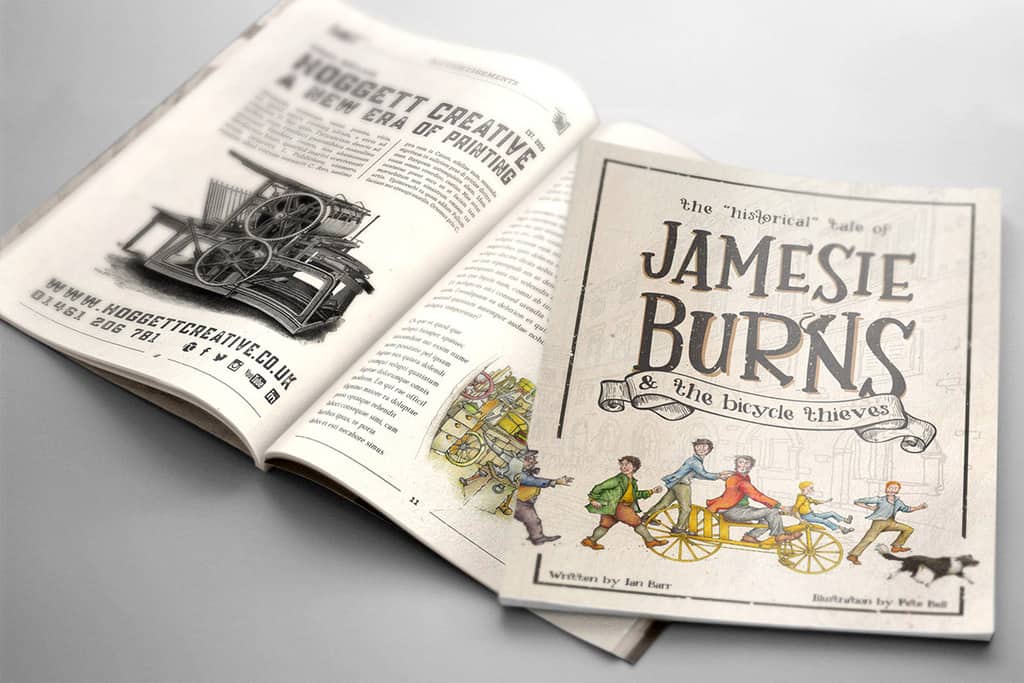 Simon Woolley of Hoggett Creative said, "Pete's illustrations complement Ian's writing so well, it has been hugely enjoyable to design the magazine and bring Jamesie back to life again. We particularly want to work with parents and schoolchildren and can undertake schools visits with a magazine for each pupil for a very reasonable price."
Pete Bell, illustrator, said, "I think there is a real chemistry between the words and illustrations in our work and it was great fun to tease out the characters in Bicycle Thieves – especially the bad guys!! Jamesie has great potential to enthuse a new generation about the work of Robert Burns and I'm looking forward to starting soon the illustrations for 'Secret Tunnels."