10 years ago, the new owners of Mitchells of Castle Douglas in King Street, could see the impact supermarkets were having on their fruit & veg shop. Drastic action was required and a free local delivery service was created. Today, with a lot of hard work, the family has grown the delivery business to have a dedicated warehouse and a fleet of vehicles on the road every day.

Jim McGhee and his family took over the popular fruit and veg shop just over 10 years ago. A time when it was already estimated that 97% of food was bought at supermarkets [1]. Jim had never been afraid of hard work and wasn't about to sit back and watch the supermarkets take his new business. So, Jim decided to branch out supplying wholesale customers and the catering industry with his quality hand-picked fruit and veg – from his car!
The first customer was soon on board and Jim continued tirelessly to build a loyal customer base.
His customers could see the quality of the produce and also appreciated Jim's great service and reliability. It wasn't long before the first Mitchells of Castle Douglas van was on the road.
Jim and his family continued to grow the business and more vans followed, along with their dedicated warehouse. 18 months ago, Mitchells introduced a free home delivery service which has proved very popular.
10 years on, the family still have the well stocked shop at 138 King St and a fleet of vehicles delivering from Carsphairn across to Gretna.
You can order direct from their website, or call on 01556 502077, for the finest fruit, veg, groceries, salad, herbs, Graham's dairy products, and Glenkens eggs. the shop also has a fish counter – all with free local delivery throughout most of Dumfries & Galloway.
Mitchells of Castle Douglas Website
retail & wholesale
Here is when they deliver (for FREE) in your area
Order before 3pm for next day Free delivery
Auchencairn and surrounding – Monday, Thursday
Balmaclellan – Monday, Tuesday, Thursday, Friday
Castle Douglas – 5 days (Monday – Friday)
Carsphairn – Monday
Dalbeattie – 5 days (Monday – Friday)
Dalry – Monday, Tuesday, Thursday, Friday
Dumfries – 5 days (Monday – Friday)
Ecclefechan – Monday, Wednesday, Friday
Eaglesfield – Monday, Wednesday, Friday
Gatehouse of Fleet – 5 days (Monday – Friday)
Gretna – Monday, Wednesday, Friday
Kirkbean – Thursday, Friday
Kirkcudbright – 5 days (Monday – Friday)
Kirkpatrick Durham – 5 days (Monday – Friday)
Lockerbie – Monday, Wednesday, Friday
Moniaive – Tuesday & Friday
New Galloway – Monday, Tuesday, Thursday, Friday
Thornhill – Tuesday & Friday
Wigtownshire – Tuesday & Friday

Farming has always been at the heart of the McGhee family
The below picture was taken in the late 1950s at the end of the harvest at Barbuchany Farm.
Jim's daughter Kirsty told us: "The man at the back holding the child is my grandfather (Stanley McGhee) and the child he is holding is my dad Jim. Beside him at the back is Andy Ross who was a retired farmer and always came to help out at busy times.
The man on the very left we are not sure who he is. The man kneeling down is Gerald McNairn (known as Nicky), he lived with my dad and the family and worked on the farm. The man to right is William Lindsay, and he was also a retired farmer, who came to help out when it was busy. The farm had 40 cows back then and were milked in a byre…..farming has always been dads true passion!"
The below image was taken in the early 60's at Mains of Park, Glenluce. The tractor is a David Brown 25D.
Kirsty said: "William McGhee (my dad's uncle) is driving the tractor, and sitting on the back of the binder is my great grandfather Frank McGhee. If you look closely, at the back of the tractor, you should spot, my dad's cousin Grace Scott (McGhee)  who still lives at Mains of Park and now produces eggs for us."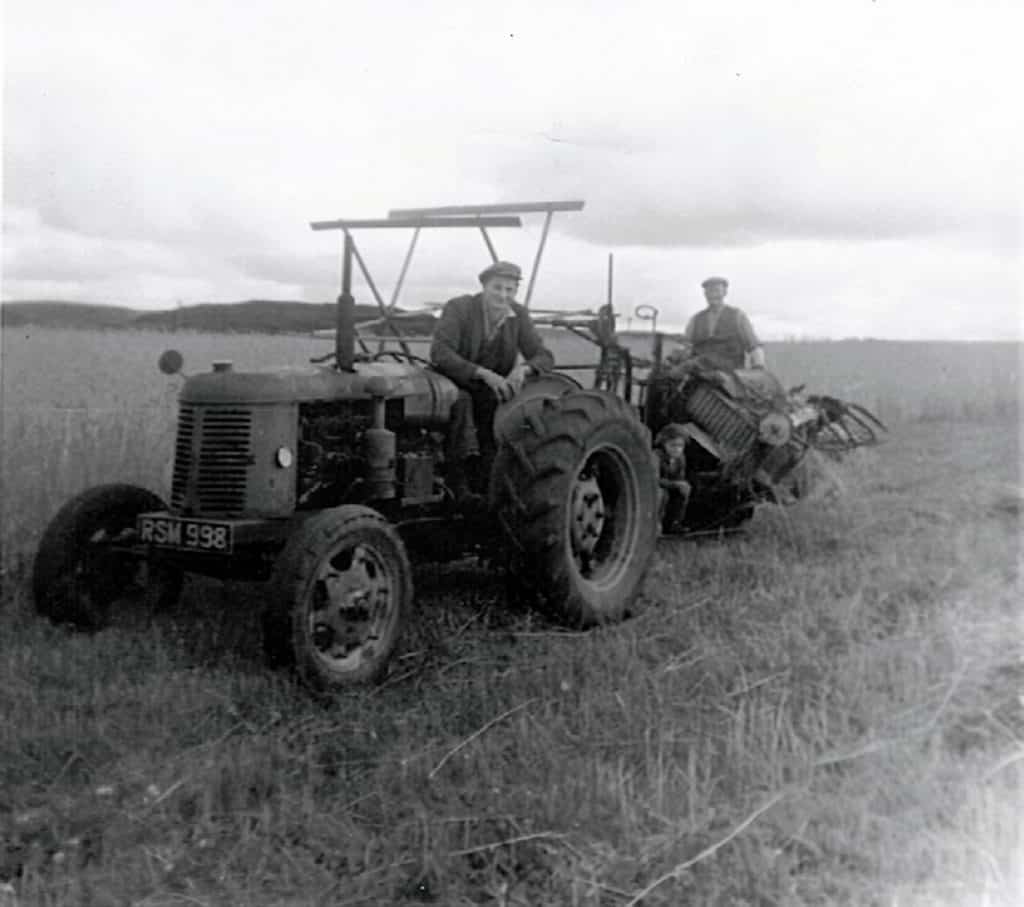 The below picture shows a younger Stanley McGhee (Jim's father), on a Fordson tractor, with Mirk the collie, and taken in the 1940s at Barbuchany Farm, Newton Stewart.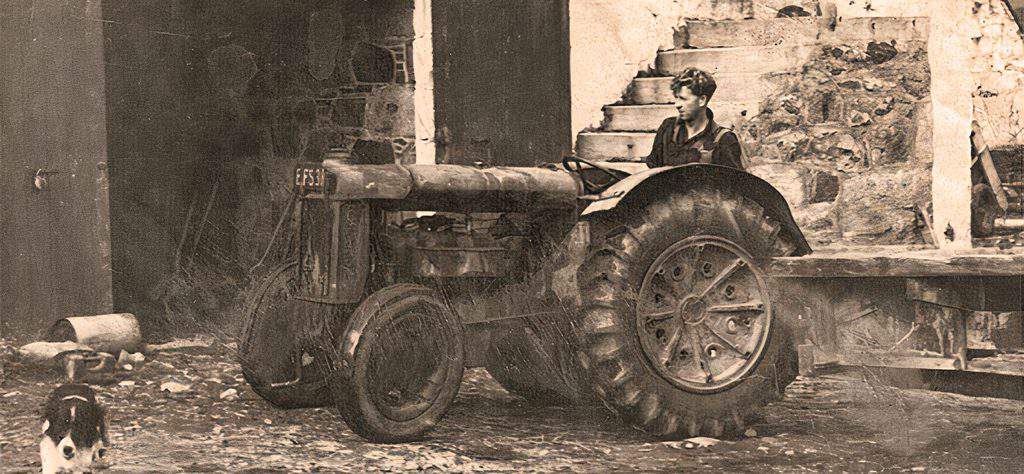 About Mitchells of Castle Douglas
Mitchells of Castle Douglas are dedicated to providing fresh quality produce from their shop at 138 King St, Castle Douglas and also offer a free delivery service to many areas of Dumfries & Galloway.
[1] The Right to Retail: Can localism save Britain's small retailers? – 11th April 2011