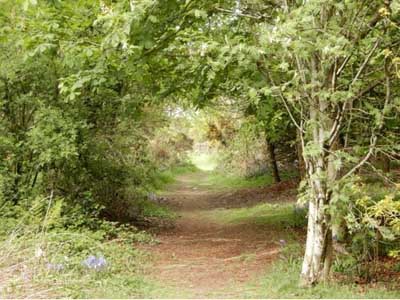 Plans are now being finalised for a suite of work which will improve 750 metres of core path that run through the community woodland on the outskirts of Crossmichael village, heading towards Culgruff House.
The project is being led by Crossmichael & District Community Council, and is being funded by the Galloway Glens Landscape Partnership Scheme and by Blackcraig Wind Farm Community Fund with funding from Blackcraig Wind Farm (Scotland) Limited, administered by Foundation Scotland working in partnership with The Glenkens & District Trust.
The woodland, owned by the Shedden family of Crossmichael, is in the management and care of Crossmichael & District Community Council and the path is part of a popular circular local walk.  The path improvements will provide an improved path surface, drainage, gates, picnic tables and a new footbridge. The project will improve accessibility for a wider range of user abilities. Discussions are underway now about when the work can get underway – precise timings and timescales will depend on national developments and guidance!
Richard Middleton, chairman of the Crossmichael & District Community Council, upon seeing the plans being finalised, said:
The Community Woodland in Crossmichael is a well-loved amenity and the Community Council is keen to enable residents to make the most of it. In particular, we have for a long time wanted to improve the main path, which gets very wet in bad weather, and also to make it more accessible for folk with buggies and wheelchairs. This scheme, generously funded by Galloway Glens and our co-funders, Blackcraig Windfarm Community Fund, will enable us to just that – and to enhance the woodland in other ways as well.
These improvements form part of the broader Galloway Glens 'Out & About' project that sees a range of work taking place up and down the valley, focussed on improving access for all abilities to the amazing natural environment we have in Galloway.
Jonathan Barrett, Galloway Glens Land Management & Access Officer, said:
This project will significantly improve the usability of this part of the core path as well as enhancing access to and the facilities of the community wood which is a treasured local asset.

Particular thanks to the Crossmichael Community Council and the Shedden family as landowners for bringing this project forward and to the National Lottery Heritage Fund, supported by lottery players across the country."