Following on from the senior Youth Speaks event held two weeks ago at Kirkcudbright Academy, it was the turn of the local primary schools to be sponsored by the Rotary Club of Kirkcudbright. They held their own Junior Youth Speaks competition at Kirkcudbright Primary School last Thursday evening, when seven pupils from Kirkcudbright Primary, Gatehouse Primary and Twynholm Primary Schools competed for winners and runners up trophies and prizes as well as a 'Most Promising' prize. Spectators, one of whom described the evening as 'charming', enjoyed talks on topics as diverse as elephants, polar bears, avalanches, Darcy Bussell, Downs Syndrome , Christmas and education! All the talks were supported by the students' own power point presentations and visual aids and it was clear that they had all carefully researched their topics and thoroughly practised their delivery.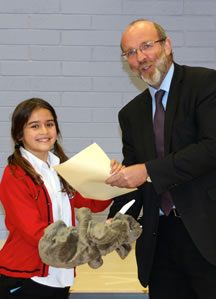 The competition was judged by serving Police Officer and Rotarian Jacqui McIllwraith, retired Primary Headteacher Andy McMinn and Rotary President, Dr John Locke. After careful consideration the judging panel named Eilidh Fernando-Campbell as winner and Alexander McCormick as runner-up whilst Allystair Nicholas was recognised by the judges as the 'most promising' among the other speakers. Dr John Locke commended all of the participants for their efforts before the judges presented the prizes to the winner, the runner-up and the most promising young speaker, as well as Certificates of Participation to all others who took part.
In his closing remarks MC for the event, Rotarian John Frew, observed that the competition had been a great success and he thanked the judges and Kirsty McClelland of Kirkcudbright Primary School for hosting the event.