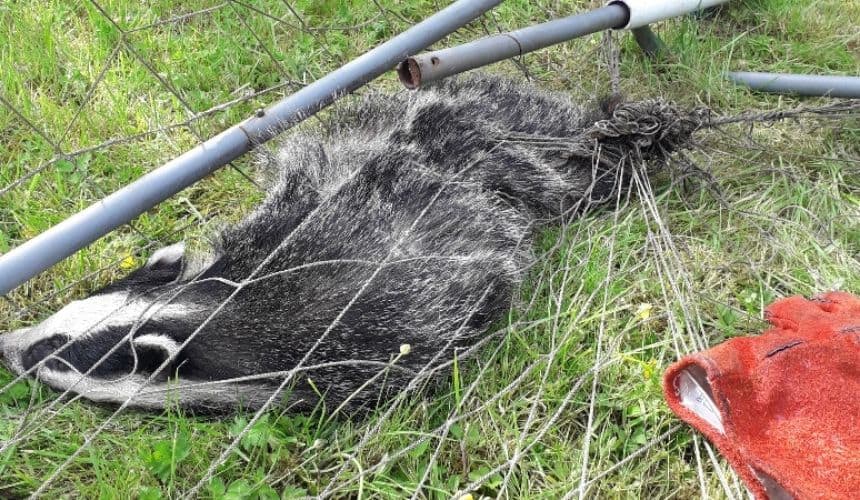 The Scottish SPCA recently rescued a badger which had become trapped in a football net.
Scotland's animal welfare charity was alerted to the male badger on 20 June by a concerned member of the public who discovered the badger in their back garden.
Scottish SPCA animal rescue officer Emma Chisholm said, "The caller contacted us after they found the badger tangled in the net of a child's football goal.

"Thankfully we were able to get to the animal before he caused himself serious injury.

"I was able to successfully free the badger from the net and he was taken to our National Wildlife Centre at Fishcross to be treated for minor injuries.

"After some time to rest and recover, he was successfully released back in to the wild on 26 June.

"This badger was very lucky that the homeowner was vigilant and noticed him in the garden but the outcome could have been very different.

"Nets like these can be very dangerous for both domestic and wild animals as they can easily become tangled. The animal then panics and becomes even more entangled as it struggles to free itself. It causes a great deal of stress and n the worst case scenario, the animal can end up accidentally strangling itself.

"We'd ask anyone with one of these nets in their garden to keep an eye out for any animals in difficulty and, if possible, tidy the net away somewhere safe once they've finished using it."
Anyone who discovers an injured wild animal should contact the Scottish SPCA's animal helpline on 03000 999 999.
If You would like to donate to help support the SSPCA Please click Here