DUMFRIES DJ Calvin Harris has dismissed a new biography on his stunning success story but author Douglas Wight tells DGWGO why he wanted to write a book on the dance music superstar.    
[vc_text_separator title="By Douglas Wight" title_align="separator_align_left" align="align_center" color="grey"]
Calvin Harris is a phenomenon. A Dumfries lad who wrote and produced his first album from his bedroom while stacking shelves in Marks and Spencer, he is now the most successful DJ in the world and the go-to producer for some of pop's biggest names.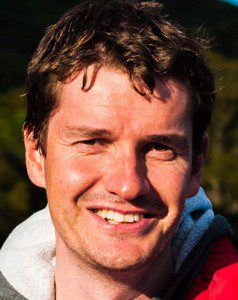 He first came to my attention in 2007 when posters started spreading around London heralding a precocious new talent who claimed 'I created disco'. The 'fly eye' shades he made himself were everywhere. It was a refreshingly ballsy and somewhat surprising publicity campaign for a previously little known Scot.
When a good mate then raved how Calvin had rocked an event on Skye it struck me that there might be more to this artist than quirky hits like 'Acceptable in the 80s' and 'The Girls' suggested. So when the number ones started mounting and records started tumbling I became intrigued to find out what made Calvin Harris tick.
I spent a few days in Dumfries-shire approaching friends and former colleagues. Some were happy to speak to me, others weren't. The overwhelming response I received though was that people only had good things to say about Calvin – or Adam Wiles, the name by which he is still largely known in Dumfries.
People are clearly proud of Calvin's success and find it amazing that someone from such humble beginnings could become such an international success story.
The book is unauthorised, meaning Calvin was not involved in its writing. However he has been so prolific in interviews, particularly in his early days, that there is no shortage of opinion from him.
The more I researched the more impressed I became with this singularly determined and talented individual.
As I write in the book, what I really liked was how, in the carefully polished pop world that trades on image and perfection, here was a guy who wasn't afraid to show his workings. From the stars who turned down his music to the backroom deals, and from trade-offs between talent to spats on Twitter, celebrities snubbing him or what he spent his money on, he was like our insider, revealing the tricks of the trade and what really went on behind the scenes.
Inevitably, perhaps, as his status has grown and interest in him has spread, his interviews have dried up. Therefore I wanted the book to give fans a chance to read Calvin's story, largely from his own words, or from those who had an insight into his life.
Calvin has reacted to the news of a book on his life with suspicion, perhaps understandably. However I hope, if he reads it, he will see that this is a celebration of success, and not a hatchet job.
One of my favourite stories during my research was one concerning his father. I like to think it sheds a little light on how unaffected by fame Calvin and his family are. Upon hearing a proud mother tell of what an accomplished musician her son had become, his dad was said to have replied: "My son is also a musician, but I don't think you will have heard of him."
"Mr Wiles," the woman apparently responded, "the whole world has heard of your son."
[vc_cta_button call_text="Calvin Harris: The $100 Million DJ by Douglas Wight is now available as an eBook on Amazon" title="View on Amazon" target="_self" color="btn-inverse" icon="none" size="wpb_regularsize" position="cta_align_right" href="http://www.amazon.co.uk/Calvin-Harris-100-Million-DJ-ebook/dp/B00TCZP6SA/ref=tmm_kin_swatch_0?_encoding=UTF8&sr=1-1&qid=1430391837″]