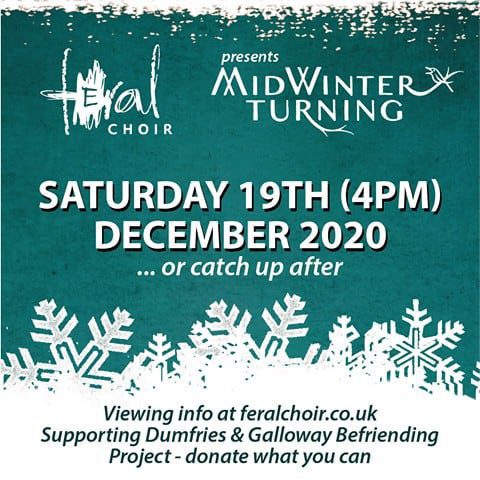 For the very first and sadly the last time the Feral Choir is pleased and proud to present our virtual MidWinter Turning concert which will be live streamed on Saturday 19th December at 4pm.
The Feral Choir has been meeting online since September, learning songs and recording them at home – they've been mixed and mastered by choir leader Ali Burns and made into a beautiful video by choir member and visual artist Sue Thomas.
As with all our MidWinter Turning concerts there will be poems and readings from our favourite readers, some lovely footage of the choir singing at a previous concert; a film by Kim Ayres and some surprises along the way as well.
So roll up with a glass of your favourite tipple and a mince pie and sit back and enjoy join us for a free festive celebration, where we will come together to look back at the passing year in song and spoken word.
No need to book a ticket, simply follow the link on the Feral Choir's website (https://www.feralchoir.co.uk) before the event to receive the link for viewing. The concert will last approximately 35mins.
We would love you to make a donation to the D&G Befriending Project, which supports and enriches the well-being of vulnerable young people 8 – 18 years, who are going through a difficult stage in their lives. Donations can be made through their website https://www.befriending.org/donate/.