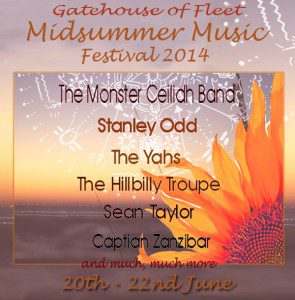 This weekend's Midsummer Music Festival at Gatehouse of Fleet will see bands with a national profile mixing with the best that the town has to offer. Friday headliners Stanley Odd have been shortlisted for Scottish Album of the Year for 2013's "Reject", toured the States last year, and been featured in The Guardian in recent weeks.
Friday's opening act Sean Taylor has also been touring, playing in Finland last weekend, supporting Eric Bibb in the Netherlands recently, and has been rubbing shoulders with folk-rock royalty – legendary bassist Danny Thompson (Nick Drake, John Martyn, Pentangle) played on Sean's recent "Chase the Night" album and asked Sean to play at his 70th birthday concert this year, whilst the equally legendary guitarist Richard Thompson (Fairport Convention and many albums, recorded solo and with ex-wife Linda) has asked Sean to support him later in the year.
Saturday's headliners, The Monster Ceilidh Band have also got some further festival headlining spots lined up in 2014, whilst Dumfries band, Sparo and The Yahs, who also play on Saturday, have a full calendar including appearances at Maryport Blues Festival and Stranraer RNLY Music Day. One of the most intriguing acts, also appearing on Saturday, will be Captain Zanzibar. Exotic though they may sound, this band is fronted by Gatehouse-born James Smyth. Having earned both respect and notoriety with teenage band The Bloody Marys, James has been studying music at Goldsmiths College in London for two years, forming Captain Zanzibar, and honing his performance skills on his own songs inspired by friendships, home and the chaotic experiences of city life. Also featuring Harin Lee on Synths and Toby Pitts on drums, Captain Zanzibar's first Scottish gig is appropriately in James's hometown.
The local dimension to the festival is bolstered by two appearances from Alan McClure, once as a solo artist, and once with indie-folk rockers The Razorbills. In what has been a phenomenally productive year, Alan will be promoting his solo album "Everything's Fine (Til It's Not)" and the Razorbills' "Like Everybody Else" as well as his recent book of poetry "Alternative Endings". Still local, though slightly more distant, Moniaive's Darcy Dasilva opens on Saturday evening, and will be the third generation of her family to have appeared in at Gatehouse.
Barrhill sessioneers The Barrstools will also be on hand to keep things lively most of the weekend, and appearing with The Razorbills on Sunday afternoon. Also recently confirmed is the return of jazz-accordionist extraordinaire Harry Hussey, who will pop up at various locations over the weekend, and the return of Ted Percy, ex-Gatehouse worthy, on sax, songs and poems of variable rudeness. Full details can be found at www.musicgatehouse.com, and the fun starts on Friday afternoon, lasting until late on Sunday.