Residents of Dumfries & Galloway are in for a cultural delight as Woman Walking, the highly-praised play by Sylvia Dow, graces the stages of Moffat Town Hall and The CatStrand in early October 2023.
This emotionally engaging production, inspired by the life and Cairngorms passion of Nan Shepherd, is an event that theatre enthusiasts in the region shouldn't miss.
Tour Dates in Dumfries & Galloway:
Moffat Town Hall: On Tuesday, 3rd October, at 7:30 pm.
CatStrand: On Wednesday, 4th October, at 7:30 pm.
Sylvia Dow's play explores themes of grief, resolution, and the soothing embrace of nature. The narrative follows Cath, a modern woman burdened by the loss of her mother. Seeking solace, Cath embarks on a journey to the Cairngorms, guided by her interactions with the enigmatic Nan Shepherd. Through heartfelt dialogues and against the backdrop of the awe-inspiring Cairngorms, the play masterfully blends humour and pathos.
"You captured Nan's character and voice superbly, and the whole play made me yearn for getting out on the hills again!" – An audience member at the performed reading at Perth Theatre 2022.
"As a piece of stage poetry, it has some exquisitely memorable and lyrical moments." – The Scotsman on STUFF (2018).
The performance, approximately 70 minutes in duration, is designed without an interval and is proudly supported by the Creative Scotland Touring Fund for Theatre and Dance.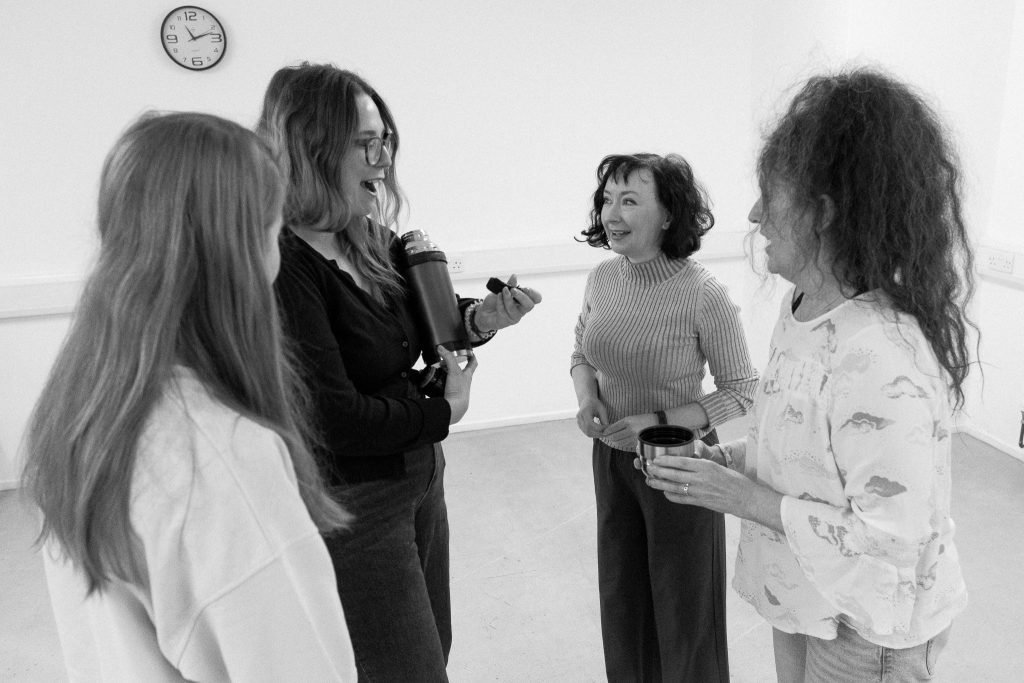 The Cast and Creatives:
Pauline Lockhart portrays Cath.
Fletcher Mathers takes on the role of Nan.
Sylvia Dow is the writer.
Becky Hope-Palmer directs.
Karen Tennent manages set and costume design.
Philip Pinsky handles composition and sound design.
Laura Hawkins is in charge of lighting design.
About Sylvia Dow (Writer) Sylvia Dow, with a diverse background in the arts, embarked on her career as a playwright after a long working life in various roles. Her extensive body of work includes full-length plays such as Blinded by the Light (Traverse), It's Only Words (Oran Mor), Threads (Stellar Quines), and STUFF (SYLVIAN Productions).
About Becky Hope-Palmer (Director) Becky Hope-Palmer is a Scottish theatre director, facilitator, and writer known for her work across various prestigious theatre companies and institutions. Her recent productions include God Catcher (Prickly Pear Productions/Underbelly) and The Steamie (Dundee Rep), among others.
About Pauline Lockhart (Cath) Pauline Lockhart has a rich history of collaborating with renowned theatre companies in the UK. Her portfolio includes work with National Theatre Scotland, Royal Lyceum Theatre, and many more. She was awarded The TMA Award for Best Supporting Actress and The Manchester Evening News Best Supporting Actress Award for her role in An Experiment with An Airpump.
About Fletcher Mathers (Nan) Fletcher Mathers, born in Scone, trained at the Royal Scottish Academy of Music and Drama in Glasgow. His theatre credits span a wide range of productions both in the UK and overseas, encompassing acting, writing, and music.
About Sylvian Productions Sylvian Productions is the collaborative partnership between writer Sylvia Dow and director Muriel Romanes.
For further details and updates, visit dgartsfestival.org.uk