In conjunction with the opening of the Annual Art Exhibition in Kirkcudbright's Town Hall on Saturday 28th June The Rotary Club of Kirkcudbright held the prize Giving for
The First Annual Junior Art Competition-
The theme being "The Glasgow Girls – with a Celtic Twist".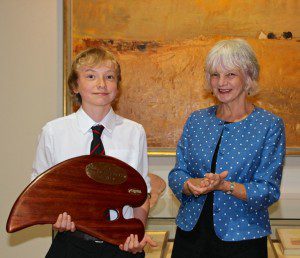 All 206 entries are on display at the Town Hall, and the Public is welcome, and very much encouraged to call in to view the many imaginative works produced by the local primary Schools and the Junior Academy in Kirkcudbright. There were many prizes in several categories, but the "William Hanna Clarke Trophy" for the overall winner was won by the very talented young artist "Ben MacPherson"
"Please combine a visit to see this year's "Glasgow Girls" upstairs and the Junior Art downstairs at the Town Hall" invites the organisers of both exhibitions.
Main Picture Youth Art Organisers .. Paul Tebay Rotary / Joe Campbell / Liz Arthur / Peter Wimbush Rotary & Rotary President Colin MacLaine  , Picture shred with permission of Kirkcudbright Rotary Club